Infinity
Infinity's incredible flexibility is what most distinguishes it from the other data input programmes on the market. Why be flexible? because you have the option to fully customise the system to your needs as a business and use it to its full potential. Infinity is a best data entry tool.

By employing several boards inside your workspace and customising each one, Infinity enables you to build flexible procedures and frameworks that let you effortlessly manage your data flow.

That's not all, though. By classifying all of your objects into folders, subfolders, and tabs and adding more than 20 properties, like checkboxes, text, labels, attachments, formulae, dates, and others, you can take things to the next level.
By choosing one of the many views available, such as Columns, Table, Gantt, Calendar, List, or Form, you may even examine all of your data in the manner that suits you best. To view your data in the way that makes the most sense to you in data entry tools, you can personalise these viewing settings.
Infinity can be integrated with a variety of applications like Trello, Clockify, or Zapier, which is another really cool feature. Zapier allows you to take advantage of the features of more than 2000 different apps. You may quickly import all of Trello's data via the interface with Trello.
Planning online deployment of a massive data database? Don't be worried! Plans from Infinity start at 50 GB and reach as high as 5000 GB. Simply put, you don't need to worry about not having enough storage for your data.
Furthermore, Infinity's document management functionality is your secret competitive edge. Infinity takes data security very seriously; twice daily data backups are performed, and 265-bit TLS encryption is used to encrypt all data transfers between users' computers and servers. Moreover, Infinity complies with GDPR, making it simple to convert any saved data into CSV files and erase them after a user's account has been terminated.
Key Features
You may quickly and simply personalise your workspace by selecting from a variety of boards and then modifying them to suit your tastes.
Select one of the more than 20 features, such as checkboxes, labels, text, and dates, and customise it to meet your needs.
Easily organise your data by adding as many elements as you like.
Because you can connect with your team via a variety of devices, you can do it from any location in real time.
Easily add additional CSV files from other programmes, such as Excel.
Zoho Forms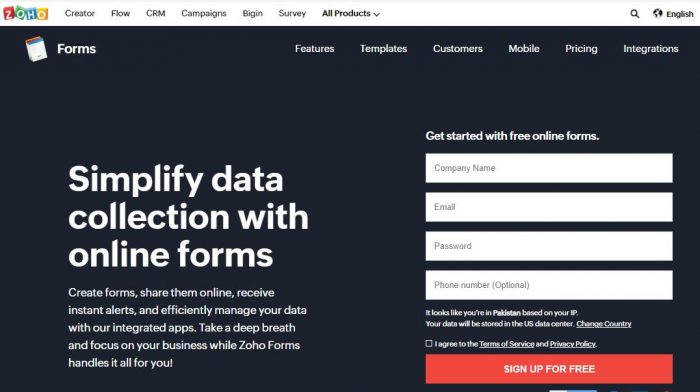 You may utilise the amazing data entry software Zoho Forms right now in data entry tools list. You and your team members can handle all the data they need regarding their work and the business as a whole with the aid of the application.
The application supports you in creating various online forms and using the various built-in applications to administer and manage all of your data. It also helps you in setting up various email notifications for all of the activities that take place in the interface.
Also, the application has a number of creative features that let you design forms that you may customise with your own unique themes, colours, and logos.
Also, it allows you to stay track of the data you are entering into the interface, as well as make various reports about the data and export the data so you can send it to the appropriate people around the world.
Let's look at some of the additional data entry tasking features that the application has to offer.
Key Features
PDF Download
Email Notifications
User Management
Activity Dashboard
Data Import/Export
Alerts/Notifications
Assign Tasks
Offline Data Collection
Customizable Templates
Collaboration Tools